Kissing Tree Studio Testimonials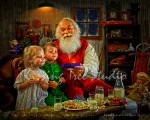 Kristy Labonte Garrett
Our Time With Santa Christmas means something to everyone. Some love Christmas for the food. Some love Christmas because of decorating. Some love Christmas because of their wish list. Some love Christmas because of quality time spent with family. Some love Christmas because of it's true meaning, the birth of our Savior. But kids. Kids love Christmas because of that jolly fellow we call Santa Claus. My kids are the type of kids who talk about Christmas all year. If they see bright lights on a building in July, they ask if they are Christmas lights. If they see a man with a long beard, he is Santa. Obviously. So when my mom mentioned to me about a photographer in the area who does studio sessions with Santa Claus himself, I was all in. Although I knew this was more than them sitting on his lap telling him what they want for Christmas...I wasn't fully prepared for what was ahead. We arrived at the studio and luckily the kids were in great moods. Meaning no meltdowns had taken place yet. I had told them about seeing Santa but they didn't truly understand about what was taking place. Larry Hersberger, the amazing photographer at Kissing Tree Studios, greeted us with a smile and a positive energy that little kids love being around. You can tell he's a kid person. So after a few minutes, we changed them into some pajamas and made our way into the set. A few days prior, Larry had asked me to bring in some keepsakes or heirlooms to include in the set. He then carefully placed the items before the kids turned the corner. Santa himself was there waiting for Asher and Harper with a big ol smile and dressed in the best Santa gear I've ever seen. Santa knew instantly that Asher wants more trains (he asks for trains every year) and that Harper wants a mermaid party. Yes, you read that right. She literally wants a mermaid party. I have a feeling we'll have an interesting Christmas this year. Anyways, after a few moments of getting acquainted, Santa and the kids went to the set. This amazing set. Larry has done a spectacular job and has put in lots of hard work. The idea is that it's Santa's workshop and they get to spend a few hours with him on Christmas Eve before he takes off to deliver toys all over the world. Santa shows them how he works on toys, he shares cookies and milk with them, he shows them his route on the globe and he even shows them his Nice Book. Luckily, Asher and Harper both made the Nice Book this year. Mommy and Daddy did too. Thanks Harper, for having Santa check on that for you. He also has Asher and Harper's Christmas list written in Elf language that only Santa and the Elves understand. Cutest thing ever! Larry then takes all of the images and writes a poem about the children and their time with Santa. He has them printed in a book, specialized for your children. It's so heartfelt. Another option is having a photo printed on metal. The metal allows the bright colors and "magic" to be illuminated by the tiniest amount of light. I've never seen anything like it. It's a true piece of art! Larry took hundreds of photos. All while working the set, moving things around, directing Santa and the kids. He is truly talented. The key to this shoot was the magic. Santa had "magic" in his pocket that we would sprinkle over toys or the kids that Larry adds back into the photos later. This "magic" literally makes the kids jaws drop. It's incredible. There were several moments when Larry would click the shutter and we'd all say "oh wow, that was a good one!" It was so much fun to watch my children interact with Santa and to see their eyes light up and look at him or his magic with nothing but awe. Simply amazing. Some of the most incredible details about the set are the keepsakes and heirlooms we provided. I had my mother and my mother-in-law each gather items. I took a few things in myself. My mom brought some of my old dolls from the Wizard of Oz. My all-time favorite movie. My mother in law provided a super cute Santa cookie jar, a photo of the kids great, great, great grandfather Garrett (who kinda looks like Santa himself), and she requested a toy green truck that Asher was played with since we was in infant. It's a replica of my father-in-laws truck from when we was younger and happens to be one of Asher's favorite toys. I took a ceramic Christmas tree my grandmother made, a photo of my grandfather from when he was in the Navy, and a small toy race car of my dads. All are subtle details the entire family will cherish forever. Once Larry felt the session was complete, he and my mother and I chatted while the kids continued to sit with Santa. They ate cookies, kept on "painting" Poppy's race car, and chatted about all kinds of things. Asher asked where Mrs. Claus and the Reindeer were. Harper so nicely invited Santa to the race car shop. (Santa- you can come to the race car shop anything, hehe!) But one more question was asked that really stuck out to me. Harper, in her curious, sweet voice, looked at Santa and asked "Where's Jesus?" I melted and smiled and waited for his response. This man, who has been "Santa Claus" for 50 years. Who has been inducted into the International Santa Claus Hall of Fame. Who has contributed to thousands of Christmas memories. He gave the sweetest, most honest answer to my little two year old daughters listening ears.... "Well Harper, that's really what Christmas is all about. Jesus Christ." Sweet as pie. A man of God. And Santa Claus. All wrapped up in one jolly soul! While it is odd for most people to talk or think about Christmas in August. It's something we talk about every single day. So I'm truly thrilled that Larry captured special moments of my children with Santa. Below I will include one photo from the session. If you are in the area, or even if you aren't, I encourage you to consider doing this session. It's something our family will cherish for years and years. Contact: Kissing Tree Studios High Point, NC 336-870-6503 Artist: Larry Hersberger www.kissingtreestudio.com Kristy
Brandi Ray
I first met Larry Hersberger as a photographer on Facebook. He has since become a wonderful friend. He is an amazing artist and an even better person. I can't wait to get little Madilynn in the studio!
Wayne and Judy Marshall
We went to see Larry Hersberger at Kissing Tree Studios yesterday...he had the most beautiful book for us... complete with a Christmas story he wrote...my only regret is that I didn't know this amazing man when my Grandchildren were small...wish with all his and Santa Cliff Snider's magic, Larry could turn back the hands of time and put them with Santa Cliff just long enough to get one amazing shot! But...I am thinking that one of these days I can get my children to Kissing Tree Studios for a family CHRISTMAS photo with Santa...because all four of them "can still hear Santa's bell ring." We all know that Santa is very real! Thank you, Larry and Santa Cliff for your talents!
Family Services of the Piedmont
Family Service would like to send a HUGE THANK YOU to all of those that participated in the Walk and Wine to support putting an end to domestic violence in our community. Your donations and efforts will go towards supporting many women and children affected by abuse in High Point. Thank you Kissing Tree Studio - Artistic Portraiture and The Vino Shoppe for hosting this event....hopefully we can have even greater success next year!
Lillie S. Axelrod - Executive Vice President - Wells Fargo Insurance Services - Atlanta, GA
Larry,

We just put it up. All I can say is WOW! You are so talented. We will cherish this picture forever.

Thanks again
Michell Adkins - High Point, NC
Larry,

It was my pleasure Larry, you do such fabulous work! This was worth every penny!
Tiffany McDowell - Triad, NC
Hey Larry,

YOU are an amazing photographer and I am so in love with the work you've done on our most recent family pictures. There are so many photographers in this area, and though they are good, I haven't seen ANY final product touch yours. The work and HOURS you put into perfecting EVERY aspect of the print is what makes it a work of art that I'm excited to hand down to my grand children and THEIR children. Anika thinks of you as part of the family and is constantly looking at our pictures and asking when she can go play with you again. We love you and this is why you are our family photographer. Thank you so much
Jessica Yanez - Greensboro, NC
Larry,

Thank you, thank you, thank you. I can't tell you how much this entire experience has meant to us. As soon as Henry saw the pictures he goes, "Cool!" (Of course he has no idea about the book yet.) Agustin was so impressed with everything, as were my mom and grandmother.

The canvas print is absolutely beautiful as well. We have put it in our living room and I know that this will not only be a special memory but a lasting family tradition where we can look back every year and remember when Henry was a little Christmas elf.

Thank you again and congratulations on having founded such a successful studio!
Sara Britt Andrews Grein - High Point, NC
I can't say thank you enough for the pictures! I am just in awe of the Santa pictures!!
Kaye Rochester & Family
Hi Larry, I wanted to thank you for taking the time to photograph our family. We all enjoyed ourselves and are 100% satisfied with the outcome! The photos are absolutely beautiful. Your patience with Mady was outstanding as was the overall service provided. We look forward to getting together with you again for more family portraits. We couldn't have asked for a better photographer or photos, they're just what we were looking for! Thank you again.
Tiffany McDowell & Family - Archdale, NC
Dear Larry,

I cannot thank you enough for the wonderful WORKS OF ART you created of my children. You can truly see the enjoyment in their faces in every single picture you took. THIS is what we buy pictures for - not to see our children's faces, but to see the excitement and personality IN their faces. I will forever be able to look at these masterpieces and recall the experience and all the fun we had that day. These pictures are unbelievable. Everyone agrees they're one-of-a-kind. My children have already asked if they can come back and "play" again!
Mellisa Woller
Larry,

Thank you for the beautiful picture you created of Thom and I. It is far superior to our wedding photos. We only wish you would have been able to do the photography then as well. You were able to capture our best qualities and we love the fabulous lighting. Our whole family says it is the best picture of both of us...ever. They love it so much they all have requested one for their homes. As you promised, it is more than a photo, it is art!!!